Meet Us
Brenda Oliver Peck — Trainer and Farm Manager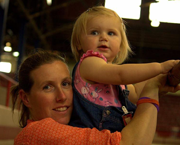 Horses have been a way of life for Brenda since she was 10 years old. Locally, she was raised on a dairy farm in Marcellus, NY and has been involved in agriculture ever since. Her passion for horses led her to attend Morrisville State College, where she received a Bachelors in Equine Science and Business Management. While at Morrisville, she was on the equestrian team, completed an internship in Wellington, and worked at a nearby hunter/jumper barn. After college, she obtained a position at Canterbury Stables in Cazenovia, NY as an instructor. In 2010, she was offered the position of farm manager/trainer at Sorrell Hill Equestrian Center, which changed ownership in June 2014 and is now called Galemont Farm. During her tenure in this position, Brenda has built a strong riding academy progam, trained numerous students to championships at local and rated shows, developed a winning IEA team and is coach of the LeMoyne College Equestrian Team. Brenda currently lives in Memphis, NY with her husband Seth and daughter Olivia.
Brenda says the best part about teaching is watching her students grow into educated horse people. They truly enjoy the horses and want nothing more than to be involved with them and learn all they can. Whether it's riding or day-to-day care, it is great to see the joy the horse brings into their lives.
Carson Family — Owner
Jim, Christa, Kevin and Ryan became the owners of Galemont Farm in June of 2014. Christa has ridden and shown horses since she was very young and has an everlasting passion for riding and the care of horses. "Team Carson" is excited about owning the farm, improvements to be made and what the future will bring!